Solutions for Radiology Practices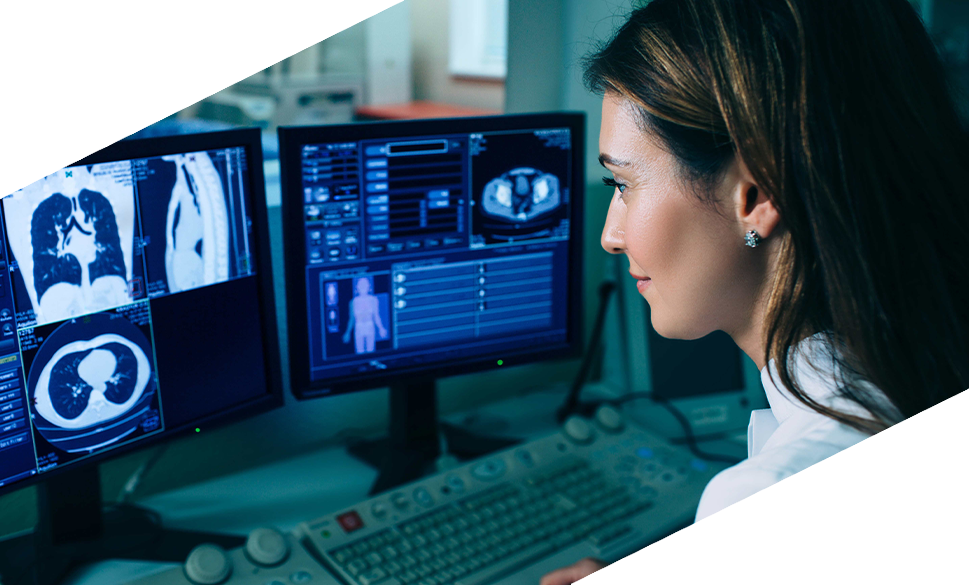 Improve your efficiency with real-time RVU tracking.
We offer comprehensive solutions to help you with all aspects of your radiology practice. We have helped radiology groups improve efficiency through proven workflows and real-time RVU tracking.

With a combined 70+ years of extensive radiology experience, our team understands the solutions that radiologists need to be even more efficient.
Quicker TAT
(Turn Around Times)
Improve TAT's (turn around times) using FINAO's proven solutions.
Improve your radiologists productivity and efficiency through FINAO's real-time RVU tracker.
FINAO Workflow Managed Services
We provide ALL managed services to ALL phases of the solution from planning to deployment on through 24/7 sustainment.
We are able to eliminate many required startup costs by offering solutions in a cost-efficient manner, including hosted environments.
The goal at FINAO is to always improve patient care through the use of proven technology and workflow.
"The FINAO System along with their support has been seamless. It is the closest I have seen to a community wide PACS and has enhanced Patient care in the community."
"FINAO is a winner on all fronts. We get out reports to our referring clinicians instantly, and the use of templated reports, combined with voice recognition, is actually turning me into an even more careful and accurate radiologist."
"The PACS system offers convenient 24-hour access to high-resolution imaging studies from any computer expediting our patient care process."
"We have been searching for a solution like FINAO; truly focused on radiologist efficiencies with the latest technology. FINAO's in-depth knowledge of our industry and their ability to improvise is refreshing and will be a cornerstone of the continued evolution of our practice!"
With a combined 70+ years of experience, the security of 24/7/365 support, and these features, FINAO is a key component of any radiology solution.
Operate your practice through this comprehensive set of performance metrics:
Enterprise – Access data across the entire discipline with no limitations of RIS or PACS

Quality – Use real-time, easy-to-use measurements for quality assurance

Utilization – Apply resources to the workload based on the acquired data

Intelligence – Make data-driven decisions from schedules, workloads, and financials. 

Plans – Obtain plans based on actual data from all areas.
The FINAO EQUIP feature has real-time RVU tracking and productivity gauges/indicators to help the Radiology practice be as efficient as possible.
We are a Value-Added Reseller (VAR) of Powerscribe 360, which allows radiologists to create and turn around diagnostic imaging interpretations faster than ever before.
This solution combines state-of-the-art voice recognition with intuitive design, a streamlined workflow, and advanced productivity tools. It is the industry standard for report creation, multisite workflow, data capture, and communication.
Critical TEST REsults MANAGEMENT
This critical test results management solution allows radiologists to alert referring physicians about a critical result on a patient. This ensures continuity of care for every patient.
FINAO Universal Reading Environment
This real-time functionality allows radiologists to manage multiple facilities from a single worklist.
Perform diagnostic readings through a disturbed environment with our solution. Designed for PACS/Diagnostic Reading, it has the capability to increase TAT to ensure superb patient care.